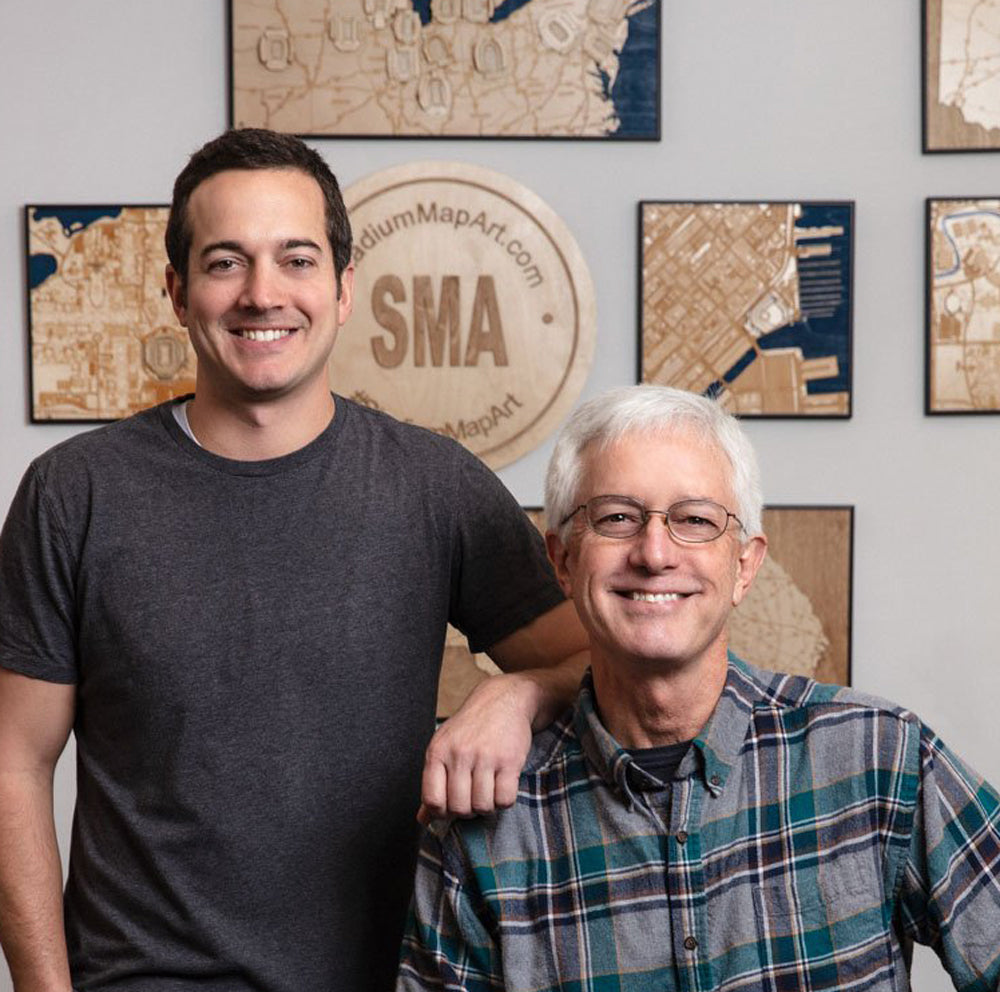 Our vision is to provide a gift giving experience that is a step above what they are expecting to get, and to evoke fond memories of great games and the people who shared those memorable experiences.
If you do not see your team, comment or shoot me an email; stadiummapart@gmail.com. While I do not respond to every request, I do see them and when I see the same ones repeated, I prioritize those locations.
Story Time (Grab your snacks): 
My Dad, Dave Holt, started SDG Laser engraving with his long time Besty Herm Blausey as a retirement hobby.  They purchased their first Epilog laser engraver in 2008 and came up with a few interesting products and landed on nightlights as their primary market, focusing on wholesale clients. 
After a while, I saw how people really liked them and suggested that perhaps they could be sold on Etsy.  They were not interested in retail sales and told me to do it.  So, I created an Etsy page and started selling them with limited success, but that got my brain working on other products. I then came up with a wooden iPhone baby toy.  As new dad at that time I knew that kids loved playing with mom and dad's phone, so I thought this was a clever idea.  Rather than making a generic phone, I made it a realistic as possible.  A 1:1 scale with very detailed icons. They sold very well but were very time-consuming to make.
Then I saw someone was making baseball diamonds and the linework was very simplistic. With the details we achieved on the phones, I knew the lasers could capture way more intricate designs so the idea of doing football stadiums came to mind. That lead to the idea of zooming out and making it into a map showing all the area around the stadium, since that is very much a part of the game day experience. We started with Columbus, Ohio as the first one and Dad drew in the roads and buildings to accompany the stadium.  StadiumMapArt was born.  I made this website using Shopify from a recommendation by a friend and started selling them in fall of 2017. Slowly we added Ann Arbor, South Bend, and on and on with my dad doing most of the drawing. As time went on, more and more details were added and today we draw the roads, buildings, roof lines, sidewalks, parks, and even parking lot lines.  It takes FOREVER, but the end result is something special.
This leads us to today. My dad moved the lasers out of this basement, and I moved out of my garage, and now we are together in one building and that has really simplified many things. We also have 6 part-time employees that are awesome.  They have been a tremendous help and we would not be where we are today without them.
 Zach Holt